Smackdown celebrated its 1,000th episode Tuesday night in a nostalgia-packed reunion show that did not disappoint. The show opened up with a montage of some of Smackdown's greatest moments over the years. I enjoyed this almost as much as the rest of the show. It's easy to forget how many awesome moments Smackdown has had over the years, so this montage was a great way of reminding all of us.
Of all the returns that we got on Smackdown 1,000 the one I was most excited for was the return of Evolution. I loved Evolution when they first formed back in the day. I thought Evolution was the coolest faction on the face of the planet. The suits, the bling, the entrance music, all of it.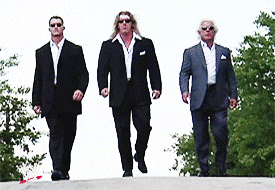 I mean, look at that! How god damn cool is that? If you were a young man in high school and you didn't want to be like these guys then you were lying to yourself.
Remember their titantron entrance video? They fly in on a damn helicopter and just go out draped in Versace to drink and make out with chicks — all for an entrance video!
I remember buying an Evolution shirt when they first came out. It was back when WWE gave zero fucks about being PG because the shirt said "Paid, Laid & Made" on the back. I wore that thing to high school. I didn't care.
So, Evolution returned for a little reunion on Smackdown 1,000 and they did not disappoint. It was mostly great to see Batista back in a WWE ring again since he had been away from it the longest, and the man known as "The Animal" made the most of his time by throwing a jab at Triple H.
This got REAL tense REAL quick.

Evolution has reunited on #SD1000, but @DaveBautista has a little reminder for @TripleH… pic.twitter.com/aEJHWQAt5R

— WWE (@WWE) October 17, 2018
OHHHHHHH SNAP DAVEY BIG DICK BATISTA JUST DID THAT.
Also, Randy Orton's reaction afterward was priceless.
Settle down back there or we aren't stopping at Dairy Queen… pic.twitter.com/d2S1snjq8v

— TDE Wrestling (@totaldivaseps) October 17, 2018
So… are we getting Batista vs. Triple H in the near future? I hope so. I would have zero objections to these two linking up at Wrestlemania for one more match. Let's do it.
We also had the return of "The Rated-R Suuuuuuuuuuuuuuuuuuper star" Edge on Smackdown tonight. He came back to speak to Becky Lynch about her fallout with Charlotte Flair and her overall change in behavior.
Queen Becky did not waiver one bit.
.@BeckyLynchWWE is the best. pic.twitter.com/l4n0iIG3KG

— TDE Wrestling (@totaldivaseps) October 17, 2018
As you should, Your Majesty. As you should.
Seriously, though, Becky is white-hot right now. Whether it's on the mic or in the ring Becky is proving to be a top superstar in the WWE. I still worry that they're going to take the belt off her with Wrestlemania season around the corner, but no one can deny the fact that Becky's stock has never been higher than it is right now. Even if WWE takes the belt off of her you can bet your arse that Becky Lynch will be at the forefront of the Smackdown women's division for a long time to come.
The New Day took on The Bar in a rematch for the tag team titles which seemed like just a normal rematch until, quite weirdly, The Big Show showed up and did this.
Welllllll @WWETheBigShow just raised THE BAR… at @TrueKofi and #TheNewDay's expense! #SD1000 pic.twitter.com/2r5wNE0Rdg

— WWE (@WWE) October 17, 2018
1,000 episodes of Smackdown, 1,000 Big Show heel turns. It was random but it was also a great "OMG!" kind of moment, so I don't mind it. The Bar are tag team champions once again, and the heels are starting to take over Smackdown before our very eyes.
The showed capped off with The Undertaker making his long-awaited return to Smackdown… to literally say just three words. He just told DX to "Rest in peace" and that was it. It was an extremely odd way to end the show but, hey, he's The Undertaker. At this point, he can pretty much do whatever he wants and fans will still love him.
Overall, Smackdown's 1,000th episode was a fun, exciting reunion with some nice surprises throw in. I still think the blue brand is outperforming Monday Night RAW on a weekly basis. Some feuds definitely need to pick it up soon, but overall Smackdown still deserves two hours of your attention every week.